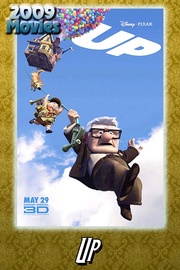 Brandon A. Mayo held this tournament to determine the most-liked film of 2009. Held in the spring of 2010.
Voting Rules
Edit
The 8-man Mini-Tournament format introduced by "Robot Masters" returns. Here's how it will work:
This format will repeat itself over 4 weeks, with a different Mini-Tournament each week. The four Mini-tournament winners will compete during Week 5 for the title!
In the event of a tie, the Metacritic score was used to determine which film would advance to the next round.
---
Tournament 1
Edit
Tournament 2
Edit
Tournament 3
Edit
Tournament 4
Edit
Final Tournament
Edit
Ad blocker interference detected!
Wikia is a free-to-use site that makes money from advertising. We have a modified experience for viewers using ad blockers

Wikia is not accessible if you've made further modifications. Remove the custom ad blocker rule(s) and the page will load as expected.