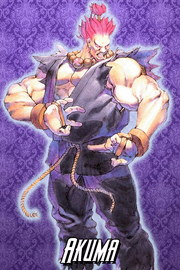 Akuma (known as Gouki in Japan) is a fighter dedicated to being the absolute best, going so far as to embrace the 'murderous intent' known as Satsui No Hadou. He's killed countless people, including his sensei and his brother, in his quest to become the strongest fighter in ever, but several of them have come back to life.
Akuma defeated Sektor in the first round, tied with Faust in the second round, before being eliminated by Yuri Sakazaki in the third round.
Round 1: Akuma was eliminated by Jax.
Ad blocker interference detected!
Wikia is a free-to-use site that makes money from advertising. We have a modified experience for viewers using ad blockers

Wikia is not accessible if you've made further modifications. Remove the custom ad blocker rule(s) and the page will load as expected.