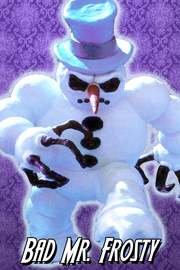 Bad Mr. Frosty is, as his name implies, an evil snow man.
Frosty defeated Hauzer in the opening round. The tournament was put on hiatus before it could ever finish.
Frosty tied with Wolf Hawkfield in the first round, eliminating them both from the tournament.
Ad blocker interference detected!
Wikia is a free-to-use site that makes money from advertising. We have a modified experience for viewers using ad blockers

Wikia is not accessible if you've made further modifications. Remove the custom ad blocker rule(s) and the page will load as expected.