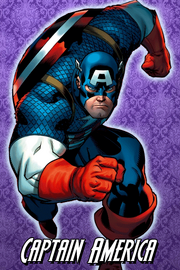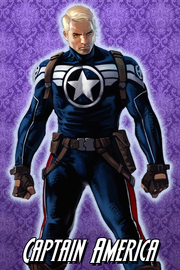 Not quite who you're looking for? Try Bucky Barnes or USAgent.
Steve Rogers was a sick kid who was tired of seeing what the Nazis were doing to the German people. Undergoing the dangerous Project: Rebirth, Steve was given a special Super Soldier Serum that turned him into the first Avenger, Captain America: The Sentinel of Liberty!
Cap went through Ermac in round 1, K' in round 2, and Hugo Andore in the third round, before being eliminated by Jhun Hoon in the fourth round.
In the first round, Steve Rogers defeated Wolverine, and Doorman in the second round, and then USAgent in the third round, moving him to the finals tournament. There, he defeated Stature and Daken before defeating Hawkeye to win the Earth's Mightiest tournament, proving he is the best of the Avengers!
In the opening round, Cap defeated Nightmare, but in the second round, he tied with Terry Bogard, eliminating both competitors.
Ad blocker interference detected!
Wikia is a free-to-use site that makes money from advertising. We have a modified experience for viewers using ad blockers

Wikia is not accessible if you've made further modifications. Remove the custom ad blocker rule(s) and the page will load as expected.