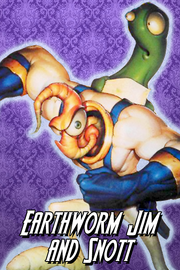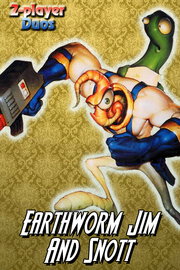 Earthworm Jim is a superhero worm who found a supersuit intended for the Evil Queen Pulsating, Bloated, Festering, Sweaty, Puss-Filled, Malformed, Slug-For-A-Butt. Unfortunately for the queen, her delivery henchman, Psy-Crow dropped the supersuit over Terlawk, Texas, where it landed on Jim.
Snott is the sentient booger that lives in Jim's backpack. His origins are unknown.
Jim and Snott were the winners of the 2-Player Duos tournament. In the opening round, they tied Link & Zelda, moving on to a tiebreaker round, where they not only overcame the Hyrulians, but also Donkey Kong & Diddy Kong. In round 2 they defeated Ryu & Ken, and Spider-Man & Venom in round 3. In round 4 they overcame the Super Mario Bros, before tying with Sonic & Tails in the final round.
In the Final Round Tiebreaker, EWJ & Snott overcame the odds in a match that included Sonic & Tails, Rash & Zitz, Toejam & Earl, Pocky & Rocky, The Altered Beasts AND Team Castlevania!