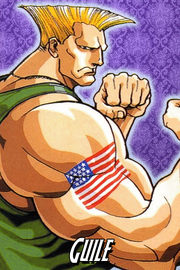 Guile is a high-ranking member of the United States Air Force, from Capcom's Street Fighter video game franchise. Guile's best friend, Charlie Nash was killed at the hands of the evil dictator, M. Bison.
Guile was defeated by the Gambit in the first round of the inaugural HTTT tournament.
Sagat sent Guile home to be a family man in round one
Guile was not man enough to hang with Savage Dragon, who eliminated him in the first round.