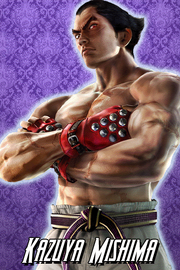 Kazuya Mishima is one of the main characters in the Namco video game, Tekken. He is the son of Heihachi Mishima, and the father of Jin Kazama. Kazuya does not get along with his family.
In the first round, Kazuya defeated Mortal Kombat's Sonya Blade. But in Round 2, he was eliminated by MK's Kano.
Ad blocker interference detected!
Wikia is a free-to-use site that makes money from advertising. We have a modified experience for viewers using ad blockers

Wikia is not accessible if you've made further modifications. Remove the custom ad blocker rule(s) and the page will load as expected.