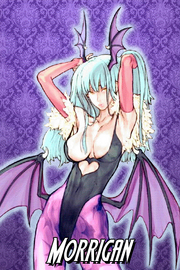 Morrigan Aensland is a Scottish succubus from the Darkstalkers video game franchise. Morrigan is one of Capcom's most recognizable characters, and often appears in their crossover games, such as Marvel vs Capcom.
Morrigan eliminated Spiral in the opening round, before being eliminated by Clark Still in the second round.
Morrigan was defeated by Earthworm Jim in the opening round.
Ad blocker interference detected!
Wikia is a free-to-use site that makes money from advertising. We have a modified experience for viewers using ad blockers

Wikia is not accessible if you've made further modifications. Remove the custom ad blocker rule(s) and the page will load as expected.