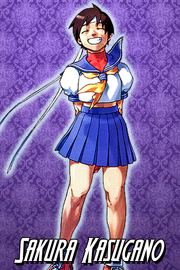 Sakura Kasugano is a teenage martial arts enthusiast who idolizes Ryu, much to her best friend, Kei's chagrin. Sakura is also still in high school.
In the opening round, Sakura defeated Tanya, while Round 2 saw Sakura deafeat Anakaris of Darkstalkers fame. The third round saw Sakura defeat May Lee, and Round 5 pitted Sakura up against fellow Street Fighter, Adon, where she was victorious.
In Round 6, Sakura was defeated by Ralf Jones in a three-way match that also involved Haohmaru.
Sakura was eliminated by Tekken's Marhsall Law in the opening round.
Ad blocker interference detected!
Wikia is a free-to-use site that makes money from advertising. We have a modified experience for viewers using ad blockers

Wikia is not accessible if you've made further modifications. Remove the custom ad blocker rule(s) and the page will load as expected.