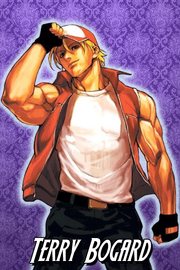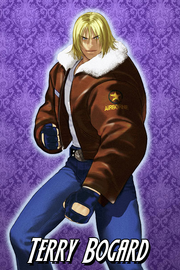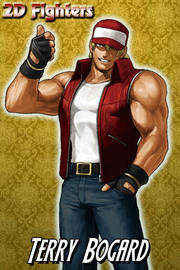 Terry Bogard is the main character in SNK's Fatal Fury series. He is also well-known for appearing in the King of Fighters franchise.
Terry also won the very first Heir to the Throne Tournament, 2D Fighters.
Terry began the inaugural HTTT tournament by defeating Mortal Kombat's Kintaro in the first round, followed by MK's Reptile in round 2. Street Fighter's Blanka was next, followed by Sodom. The fifth round saw Terry eliminate fellow SNK superstar, Iori Yagami. In the quarterfinal round, Terry eliminated Vega, and in the semifinals, Sagat.
In the final match of the tournament, Terry defeated Ken Masters to become the very first Heir to the Throne Champion.
Terry & Andy Bogard defeated Bowser & Ganondorf in the first round, and then tied with the their friends, the Ikari Warriors, in the second round. In the round 2 tiebreaker, both teams were eliminated by Sonic & Tails.
In the opening round, Terry defeated Yoshi, but he tied with Captain America in the second round, eliminating both competitors.
As the first HTTT champion, Terry was invited to the King of Kings tournament. He defeated Green Arrow in the first round, and Sub-Zero in the second round. He defeated Bowser in the third round, before tying with Luigi in the finals.
Terry and Luigi had earned the same number of votes during the King of Kings tournament, so their overall HTTT votes were added up, and Terry was BARELY declared the victor.
In a bonus match, he faced the King of Kings himself, but was unable to overcome the king.
Ad blocker interference detected!
Wikia is a free-to-use site that makes money from advertising. We have a modified experience for viewers using ad blockers

Wikia is not accessible if you've made further modifications. Remove the custom ad blocker rule(s) and the page will load as expected.