(HULK AM REAL HULK. THERE FAKE HULKS, TOO!)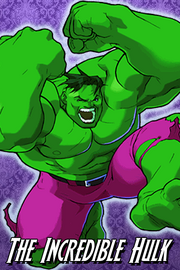 HULK AM STRONGEST THERE IS! BANNER IS PUNY!
HULK SMASH ROBOT MONKEY KID IN FIRST ROUND! HULK AND ROBOT MAN SMASH CARD MAN NEXT! THEN HULK SMASH POLICE MAN! KARATE MAN CHEAT AND GET PAST HULK IN FIFTH ROUND! KARATE MAN MAKE HULK ANGRY!
HULK SMASH FAKE ARROW MAN FIRST! THEN HULK SMASH WHITE MAN! THEN HULK SMASH PUNCH MAN, BEFORE REAL ARROW MAN SHOOT HULK IN EYE! HULK CAN'T SEE, HULK CAN'T SMASH!
HULK SMASH BATHING SUIT LADY! THEN HULK CRUSH COOKING MASK MAN! THEN GOLDILOCKS SEND HULK PACKING! NOW HULK SAD!
HULK FIGHT SNAKE ROBOT MAN IN FIRST ROUND! HULK TIED WITH ANIMAL BOY IN SECOND ROUND! WE BOTH GET ELIMINATED! GRRR!