(You may be looking for a different Thunder God.)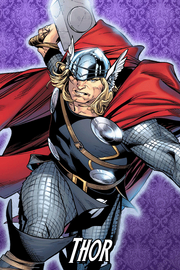 'Cross the rainbow Bridge of Asgard / Whe booming heavens roar
You'll behold in breathless wonder / The God of Thunder:

Mighty Thor
In the first round, Mr I defeated Thor.
In the first round Thor defeated Yatterman, and Hakan in the second round, smashed The Incredible Hulk in the third round, Shao Kahn in the fourth, and Smoke in the fifth before being eliminated by Spider-Man in the semifinal round.
In the first round, Thor defeated Fei Long, but lost to Tekkaman in round 2.