(You may be looking for a different Thunder God.)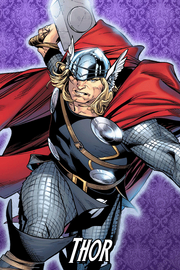 'Cross the rainbow Bridge of Asgard / Whe booming heavens roar
You'll behold in breathless wonder / The God of Thunder:

Mighty Thor
In the first round, Mr I defeated Thor.
In the first round Thor defeated Yatterman, and Hakan in the second round, smashed The Incredible Hulk in the third round, Shao Kahn in the fourth, and Smoke in the fifth before being eliminated by Spider-Man in the semifinal round.
In the first round, Thor defeated Fei Long, but lost to Tekkaman in round 2.
Ad blocker interference detected!
Wikia is a free-to-use site that makes money from advertising. We have a modified experience for viewers using ad blockers

Wikia is not accessible if you've made further modifications. Remove the custom ad blocker rule(s) and the page will load as expected.