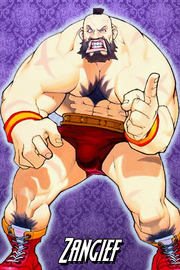 Zangief is the Red Cyclone of Russia! He wrestles Siberian Grizzly bears - For fun! He has entered various Street Fighter tournaments to prove that Russian wrestling is Number one!
Though they have never met, Zangief is rivals with Mike Haggar, from whom he "borrowed" the spinning lariat. In return, Haggar "borrowed" Zangief's signature Spinning Pile Driver maneuver.
Zangief defeated Potemkin in the opening round, Strider Hiryu in the second round, Mai Shiranui in round 3, and Rogue in the fourth round. In his fifth match of the inaugural HTTT tournament, Zangief was defeated by Ken Masters.
Zangief defeated Paul Phoenix in the first round, but lost to Batman in the second.